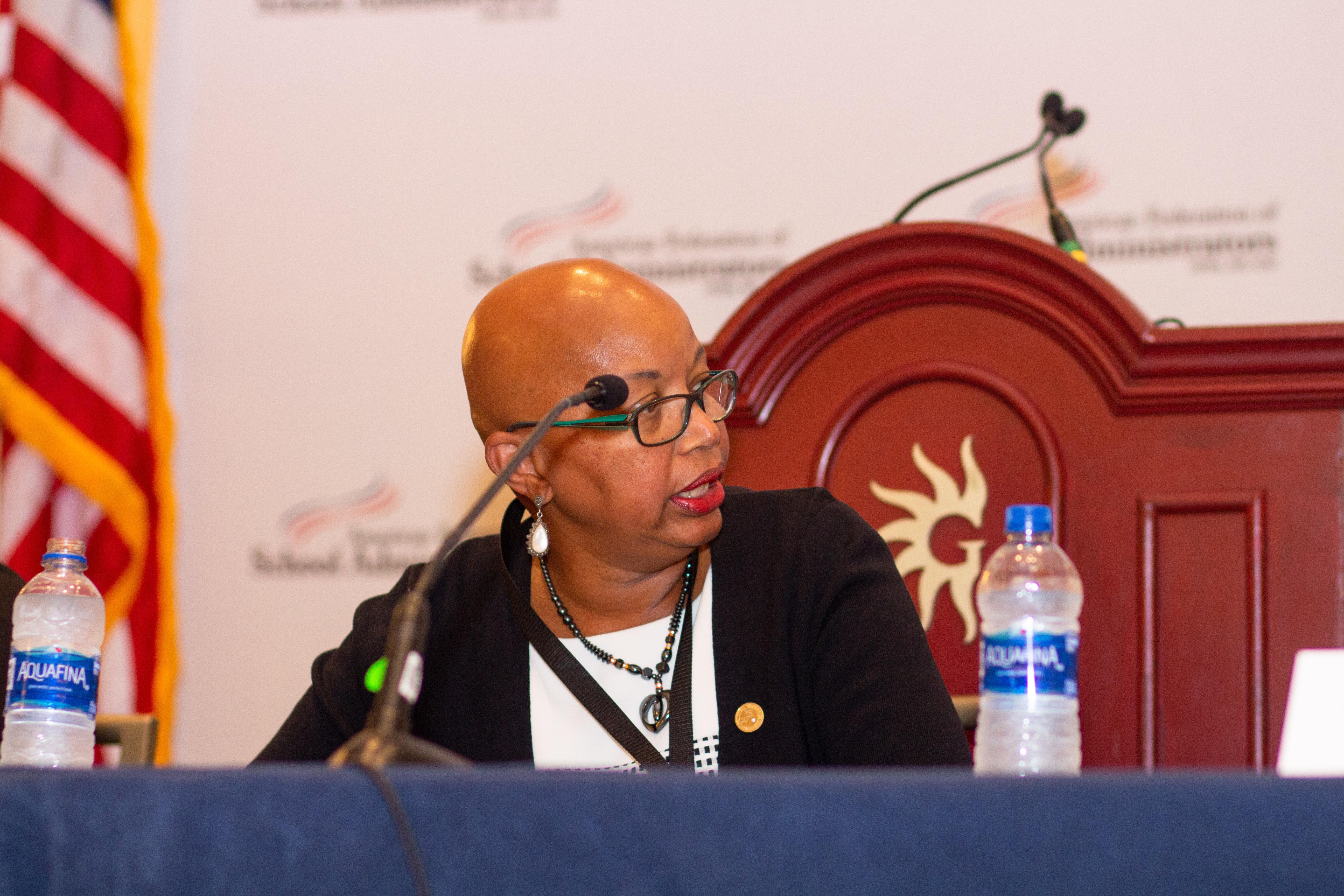 AFSA Vice President Lauran Waters-Cherry, who serves as President of the United Administrators of Oakland Schools, AFSA local 83, facilitated a panel of some of the nation's more visionary voices confronting the challenges facing pubic education.
Ms. Waters-Cherry framed the panel's discussion around educating for justice, the power of networks, and what it means to embrace restorative justice in our schools and our communities
In their introductory overviews of their work, the panelists painted a complex picture of approaches that need to be built out to scale in public education. For example, Steve Becton, whose work centers on having courageous conversations about race and education, spoke of the need to work on "getting our kids into deep learning and on how they become more human."
The four principles essential to this approach, he said, are:
Learning academic rigor;
Creating emotional engagement;
Encouraging ethical reflection; and,
Advancing informed civic responsibility.
Noting that "certain kids have been left out of civic engagement," Becton especially pressed the importance of ethical reflection, asserting that "education without an ethical and moral component is actually dangerous."
Panelist Dr. Delia Estrada, who currently serves as administrative coordinator for the Professional Learning and Leadership Development branch of the Los Angeles Unified School District, asserted, "You cannot be a leader in this day if you are not taking on the issue of equity. Our kids deserve it. And if you're not committed to that, you should be working somewhere else."
Panelist David Yusem, who heads the Restorative Justice (RJ) program in the Oakland, CA Unified School District, said the program "is not a curriculum we give to schools, It's what we use to relate, repair and restore in order to provide avenues for social and emotional learning.
"But most of the work we do," he added, "is building community. We restore [students] following discipline or incarceration by welcoming them back, and identifying what they need to be successful."
The challenge of chronic absences was the focus of Sue Fothergill's presentation. Ms. Fothergill facilitates Attendance Works, which has more than 100 organizations from 31 states and the District of Columbia. Attendance Works identifies supportive policies and practices designed to keep a student connected to their school and their classrooms.
"In engaging with students and their families," she explained, "we believe in effectively communicating the issue of the importance of attendance," rather than punitive judgments. Her organization develops research strategies for keeping kids in school and shares those strategies free of charge on Attendance Works' website.
In responding to the facilitator's question about how the convention's theme of the Changing Landscape of Public Education impacts each of the panelists' work, Steve
Becton replied that "the hyper focus on kids of color being underserved means we need to stop looking solely as quantitative outcomes and focus on educating the whole child."
Deila Estrada averred that "the biggest bombshell has been charters. We have to own this challenge because the charter movement stole our narrative from us, and we need to take it back."
Ms. Fothergill offered a somewhat different answer, suggesting that the changing landscape is actually catching up with those in the social justice world. "We know that engagement and education happen together. Children and adolescents are more likely to be successful where they're known and regarded. So what's important is the structures we're putting into place so that every child is connected to a caring adult."
To that she added, "We need to be graduating kids committed to lifelong learning."
On the question of what the impact is of providing quality professional development, Ms. Estrada replied, "The biggest challenge is that you become a needle in a haystack. You're lonely and isolated doing a complex job in a big school when being put upon by a huge bureaucracy."
To address this isolation she is offering a job-embedded program with onsite coaching. "We're in the business of educating people in human potential," she reflected. "Yet that's exactly what we fail to do in our profession, so we're starting to hug the bears. And there's a lot of research about the value of networking."