"School is important; families of color sometimes get lost and it is important for them to continue seeing someone like me as a leader."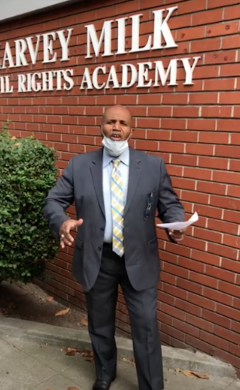 Emmanuel Stewart, who currently serves as the principal at Harvey Milk Civil Rights Academy in San Francisco, has dedicated almost 30 years to working in schools in the San Francisco Unified School District (SFUSD). 
Stewart started his career as a paraprofessional, became a teacher, then a science administrator, then assistant principal and now serves as a principal. "I'm blessed," Stewart says. "You don't know how fortunate I've been to serve in these leadership roles."  
Stewart speaks about his journey with immense passion and dedication, and makes clear his gratitude and humility for those who have shaped his path. "I can't say enough about working in [San Francisco]; I was recognized as Elementary Principal of the Year in 2018. Everything comes around. You don't expect these accolades and just hope someone sees the work that you're doing," he said.  
Stewart emphasized the importance of trust and transparency in serving as a strong community leader. "Sometimes administrators have a tendency not to live in the community where they're at. Students and families actually saw me at small corner stores in the community, which gave myself more credibility serving in this administrative role," he said of his time working at Dr. George Washington Carver Elementary School, within the SFUSD.  
"Having the opportunity to win the election for the Elementary School Representative for the United Administrators of San Francisco (USAF), and being reelected this year, meant that people trust what I am doing," Stewart said.   
Stewart has fought and battled colon cancer, finishing chemotherapy in 2016 upon his return to Dr. George Washington Carver Elementary School to serve as principal. "When I finished the chemotherapy, that was critically important for myself," he shared.  
He recently became principal at Harvey Milk after leaving a tremendous legacy at Dr. George Washington Carver. Stewart took the role wanting to "make a difference in the lives of students of color. Everything I have done has been about supporting families who are marginalized in society, so their voices don't get lost." He was asked by a colleague if he'd be willing to apply for the open position at Harvey Milk. "For each pathway and opportunity there has been something that led me that way, someone else has laid a pathway for me to follow by faith."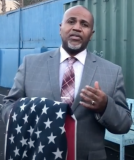 During his time leading Carver, the school won a 2018 QTEA Innovation Award for its project focused on empowering African American boys to build literacy skills, which gave all boys a bookshelf to take home and facilitated family field trips to bookstores to purchase books for their homes. "Many of those families never had an opportunity to go inside Barnes & Noble, so we would meet families to go and have the boys pick their own books with their parents.
"Having families be able to enjoy time with their boys choosing books they wanted to read was part of the project and something I am proud of," he noted. Under his leadership, the school also won a 2017 Innovation Award for its project aiming to increase the number of instructional minutes spent in class for African American male students through their "Making a Man" series that brought in role models and allowed students to serve as peer leaders. "Just the fact that somebody saw the work we were doing was impactful, it made a huge difference in the children and families' lives."  
Strong, clear leadership has become so important to Stewart that he recently accepted enrollment in the Organization and Leadership (Ed.D.) program at the University of San Francisco, which he plans to begin in Fall 2021.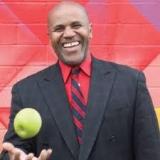 "It is critical for me to understand decision making and leadership—how it affects others, how men of color are serving communities of color and how their leadership has made differences in the schools they serve," he said.  
"I believe in this shared decision-making process; everything I do is always thinking about this shared process that supports the school. We have not opened our public schools in San Francisco yet. We would love to be able to open schools like Harvey Milk in a safe manner," Stewart shared. "It's all about trust and transparency and making sure you manage to keep the word you have. People will listen and want to support what you're about."  
Stewart's passion for supporting and mentoring boys of color has been a central part of his career. "As an African American male, completing the Principal Leadership Institute at Berkeley's Graduate School of Education was something I never thought I would be able to accomplish.
"Here I stand with a master's degree from Berkeley and to continue to move on and lead others, I never thought people would give me the opportunity to do so." Stewart is proud of the legacy he is leaving for all students and boys of color; with his wife of almost 30 years, he has two of his own sons who have followed his footsteps into the world of education.